Making a difference where we live, work, and play.
April 18, 2023
209Gives begins in
00

days

:

00

hours

:

00

mins

:

00

secs
About 209Gives
About 209Gives
Over $732,000 has been raised through 209Gives since the program launched in 2020! 209Gives is 100% free for nonprofits and ALL funds raised benefit local nonprofit organizations in the San Joaquin Valley!
209Gives is a unique and one-of-a-kind event, helping build the capacity of San Joaquin nonprofits through a 24-hour digital fundraising event hosted in April. With support from sponsors, the San Joaquin Community Foundation is able to offer 209Gives at no cost, with 100% of funds raised being passed through to nonprofits in our region. The event offers donors an opportunity to engage with local causes through an exciting day of participating in local-driven philanthropy. Nonprofits participating in 209Gives can leverage a modern and secure online giving platform, professionally developed marketing materials, trainings, communication tools, and much more at no cost— to support their work to make San Joaquin a place where there are no barriers to bright futures.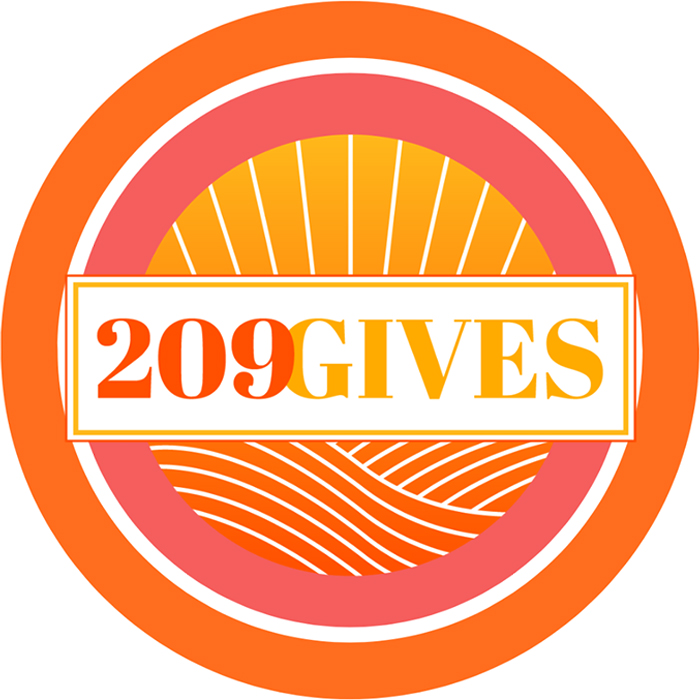 209Gives begins at 12:00 a.m. on Tuesday, April 18, 2023.
Harness the excitement of 209Gives and take advantage of this FREE capacity building resource!
Register by March 31st!
"
209Gives has been a lifeline for our organization. We have built relationships that will continue to bolster our work moving forward.
" — Dr. Pat Tirone, Director,
Delta Sculling Center
How participating in 209Gives benefits your nonprofit:
It's 100% FREE for a nonprofit to participate!
Every dollar raised by your nonprofit is passed directly through to support your organization (less standard credit card fees)
Enhances your organization's public visibility and highlights the important work you do in the community
Provides an opportunity to engage existing donors, re-engage lapsed donors, and cultivate new donors and volunteers
Expands your online and social media presence
Leverages a modern and secure online giving platform to raise funds to support your organization's most critical needs
Provides FREE access to professionally developed marketing materials, trainings, and communication tools
77% of nonprofits acquire new donors through 209Gives
48% of donors support an organization for the first time
How to have a successful 209Gives fundraising event:
Utilize the FREE trainings offered through 209Gives
Regularly communicate your participation in 209Gives to your supporters
Prepare your supporters in advance so they are ready to donate to your organization on the day of the event
Fill out your entire 209Gives page to inspire visitors to support your cause
Provide specific and clear fundraising goals on your 209Gives page
Matching gifts can be a great way to challenge your supporters to meet your 209Gives fundraising goals (talk with your key supporters about providing a matching gift for your 209Gives fundraising campaign)
Make the 209Gives "event day" a big deal at your organization, on your website and on social media. Make it a day of fun and a day of recognizing the great work your organization does!
Your organization will get out of it what it puts into it!
Interested in becoming a 209Gives Sponsor?
Click Here